A note written by Rose Henderson on
Wow — my last post was on the 31st January and not entirely a positive one either! Lets just say that the events leading up to that post sort of put me off my stride for a couple of weeks, my home telephone line went down in the stormy weather which in turn knocked off our broadband, which only went back up this week. And that was just my technical problems!
In all that, I did manage to get making a few things, the biggest of which will be revealed on Monday or Tuesday, depending on how this weekend goes. However, I do have a few makes to show you all, just to show I haven't been sitting on my bum doing nothing for a fortnight.
Firstly, some new hairclips. It started out as a very sweet idea from my eldest son, this was the first Valentine Day that he understood and patiently sat one evening while I worked, drawing a Valentine card for one of the girls in his class. He then asked me to make something for her, drew a rough diagram of what he wanted, picked out the felt I was to use and sat and patiently waited while I whipped it up for him. He then selected how to present it to her, wrapped it up in tissue paper and nervously popped it inside his bag ready to take to school on the Friday (it was half term here this week, so he wouldn't have seen her on Monday). And look how cute a job he made of it:
He was terribly nervous giving it to her, and did the six year old thing of "give and run". She loved it, and had a little gift for Jack as well, I'm impressed too as she knew exactly what to give him (Doctor Who book and sweets!), oh so cute!
To be honest, it inspired me. I sat and made more, many, many more…
It's a fantastic way of using up my larger felt scraps, and I think they are really pretty too. I have a batch for the next few events I have, and once I got started I continued with the large felt hairclip theme and came up with these too:
Pretty flowers, and then went onto the butterflies…
And, when I noticed how many red felt scraps I had after Christmas, I couldn't resist making these:
I feel lovely and summery whenever I see them, and that's a fantastically positive thing in this weather!
I also made a hairclip holder for a friend's little girl, butterflies and purple was the brief, and it was mainly to store those little Alligator clips you get, which she had a lot of.
So we went with thin ribbon, and this time made it with three bits to hang clips from — the middle ribbon still has the loop in the bottom for hairbands but the other two are just ribbons with the butterfly at the bottom to weight it and keep the ribbon straight. And the pocket at the top is a little bigger to store all those hair bobbles.
I'm now loving the detail of the two heart shaped buttons too, I got a large pack of various coloured heart shaped buttons last year but they were so small I wasn't quite sure what to do with them, but I think I am going to make a few more hair clasp holders for the different events I have coming up and use them to add a little more detail.
To be fair, aside from a few Name Banners that's all I've really felt like making, I haven't really been pushing the Facebook page as much as I should as I haven't really felt like making the effort with it — nothing like a good old bit of cyber bullying to put you off your stride, is there!
But while I am here, I didn't upload a picture of the hair clasp holder I put in the party bags for little girls who came to Toby's birthday party — I finally found where I filed it on the Mac!
Those I have spoken to seemed to like it, and I think it's a fantastic idea for a party bag (perhaps that's because I make them though…).
Anyway, hope you all have a lovely weekend — I'm having a rare night out tomorrow night (woo hoo!) but first I have a huge pile of orders to get through, housework to do, clothes to put away…
See you all next week, with a fantastic new idea!
A note written by Rose Henderson on
Thought it would be nice to do a Blog post where I wasn't saying "look what I made" (although there is a little of that underneath) and where I say hi to all my new fans (hi!).
It's almost a year now since I started making things to sell, and it's been full of ups and downs. The up's being the fantastic support I have had from people I don't actually know, fans of my Facebook page, customers online and in person and suppliers. Down being the one thing I didn't really think about when starting out — my work being mimicked. I have edited out most of this as it has caused huge debate on what can and cannot be copyrighted, and what is copying and what is just having a similar idea). I can't stop any of it, but what I can do is be honest in what I do, make sure I don't tread on anyone's toes, forget the whole aggressive marketing nonsense and trust that karma will do it's job. After all, the majority of us in this position are all Mum's trying to earn a living around childcare/house constraints and demonstrate a good work ethic to their children.
But onto far nicer things, like making things. I had a bit of a huff on Friday night as I was home alone, attempting to sort through my office and make some sort of sense of it (I have moved into the smallest room of the house, and now have to share with my husband's work stuff too). I have five massive boxes packed with fabric, and a small filing cabinet full too. That's before felt. And I haven't been motivated to do one thing with it all — I just couldn't think of anything I wanted to make. Fortunately I have some wonderful Facebook friends who gave me lots and lots of suggestions, and today I took some fabric out, turned it around and sort of waved the scissors in front of it, but still I just can't get my head to where it needs to be to start making these new things. I'm hoping that motivation comes and gives me a good kick up the backside soon and gets me back into gear, but right now I am faffing and not really getting very far with any of the projects I want to try. Which I suppose, is one of the problems with working for yourself — only one person responsible for an un-productive week and no–one to motivate you to get your bum into gear. Very. Frustrating.
But forgetting things like that at the moment, I forgot I hadn't shown you my hand-made masterpieces I made for Halloween. We had a little bit of a party for our children's friends at our house (we do the first year, hopefully we have five more years of parties not in our house, score!) and they all came in fancy dress. two of my children were very specific about what they wanted to dress up as, the 3rd could only grunt, which gave my husband this idea: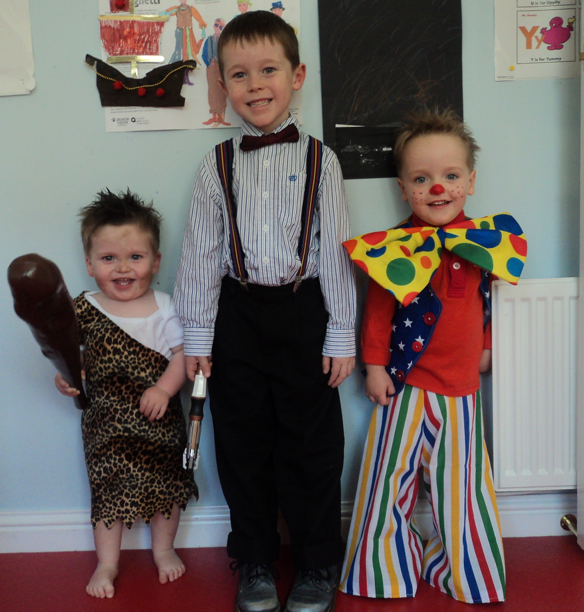 Honestly, how cute are my children!?!? My eldest son, who is in the middle, wanted to go as Doctor Who. But new Doctor Who, so no going to toys r us and purchasing that 11th Doctor fancy dress that was reduced — noooo! This was a total ebay trawl to get everything right down to the boots. I can't claim any of the glory for this aside from paying for it all, my husband found it all and spent many a Saturday night during X Factor (when ebay is really quite quiet) attempting to grab a bargain.
My middle son was determined to go as Mr Tumble. Have you ever tried to get a Mr Tumble costume, it really is difficult. And making one so he looks the same — well that's just bloomin impossible! I couldn't find the orange fabric with the blue stripe for his trousers anywhere and just used some I had in my fabric stash. The waistcoat should be blue with yellow stars, and the bow tie much smaller and totally different colours — but Toby didn't mind and really loved his costume. I made the trousers drawing around a pair of his jeans to get the width, the waistcoat was made using their pirate fancy dress waistcoat as a template, and his freckles were made with my now ruined eyeliner (as he likes to dress up as Mr Tumble as often as possible).
My youngest son, quite possibly the most grown up 18 month old you could ever meet, was only able to grunt. So my husband decided he should go as cave baby and yes, that is real mud on his face fresh from our back garden.
The costumes were a hit, and have been worn many times since which made all the hard work worth it. Hopefully they will remember the time that their Mum made their costumes and they got to go as exactly what they wanted rather than a shop purchased costume that everyone else got to wear, although they may remember that as a bad thing rather than a good one!
I need to now go and find my mojo and do some sort of work, maybe I can go and wave my scissors about at some fabric and magically come up with something.
P.S. to anyone new, my Blog posts are usually much more upbeat, honest!
A note written by Rose Henderson on
I do love my Name Banners and really enjoy putting them together, but it does get a little disheartening when you see so many other people doing the exact same thing, so over the Christmas break I spent a little time doing some research, having a look online and asking friends, my kids, random people who make enquiries exactly what is missing. no–one really came up with anything that isn't already out there in some form, and then I remembered when I was pregnant with my eldest son I had a real bee in my bonnet about the type of bedroom he was going to have. And no matter how hard I tried, I couldn't get anything that had his name on it that went with my theme — it wasn't that his name is unusual (it's Jack for goodness sake, the most popular boys name going!) it was that there just wasn't much about then.
That was six years ago, and having a look around there still isn't that much around. And now my middle son, Toby, is daft for Dinosaurs. Which is great, but some dinosaur products can verge slightly on scary.
It's his 3rd birthday this week and he wants dinosaurs. That's all, nothing else, just dinosaurs. On Friday we were in the playground and he spotted one of the Mum's with a dinosaur gift bag hanging on her pram, he went on and on about that bag all the way from school to Jo Jingles — he wondered what was in that bag, wasn't it a pretty dinosaur bag, could he maybe have a dinosaur bag…  he was over the moon when we got to Jo Jingles and he discovered that the bag was, in fact, for him. He did the entire class with the bag at his side, and carried that bag everywhere yesterday — which was why I designed my new Name Banner just for him.
It couldn't be scary, had to be cute and had to have his name. And this is what I came up with:

I can hand on heart say I haven't found anything else even similar to this online, and I have done my research! This, and the other ones I will be uploading the next few days, are designed exclusively by me. I may not be able to do anything about people mimicking my star / circle / cupcake / heart Name Banners but this one is totally, 100% me!
I also have a matching Birthday Badge, why not pop over to my Facebook page and check it out and in the meantime, I'm off to get more prep done for my little dinosaur's birthday party — I'll be sharing pictures of the hand made party bag contents later in the week along with a few more new products!