A note written by Rose Henderson on
Aside from making things in Home Economics at school, I never really made anything significant. I used to change some of my clothes, add on fringing to skirts or tops etc but my first big project that I still have is a Winnie the Pooh cross stitch.
Not incredibly hip or trendy to do, and I only started to use an embroidery hoop after completing a few months (duh!) but I got there in the end. It took me eight months to complete and used to hang in the hall of our very first flat.
It's only been hung up one more time since then, despite moving three times after that. When I had my eldest it didn't fit in with his room theme, so when we moved while I was pregnant with my second son I decided he was having a Winnie the Pooh nursery just so I could hang the picture.
Sadly, it sits propped against the wall in my youngest son's room at the moment (like many pictures in our house, it's really difficult to get a picture to stay up on the wall in a new build!) and as he is getting older it's probably going to be relegated to the attic as I get the feeling my husband really doesn't like it. Hopefully one day one of my grandchildren will appreciate it, as I hate to think of it being packed away and never seen or appreciated.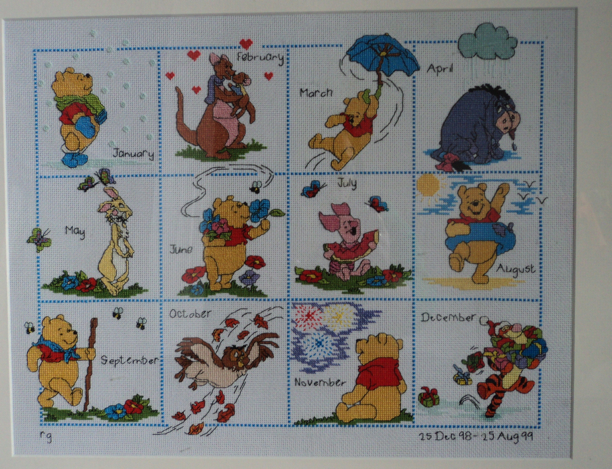 Looking at the date on it that was 11 years ago I made it — doesn't seem like that long ago.
A note written by Rose Henderson on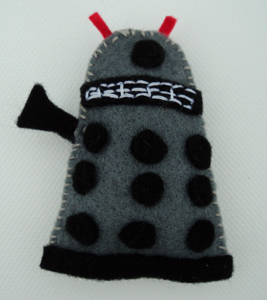 Here you go! It's teeny weeny, designed to be a little badge for my son's 6th birthday (he is Doctor Who mad!) but he unfortunately spotted it. I would like to say he was overjoyed with it, but the first words out of his mouth were "why is it so small, is it to exterminate bee's?" and I promptly went in the huff!
I am hoping to make some of these either into little badges to go in his party bags or as little beanbag games with Daleks — still not entirely sure where on the badge I could put a six but I will deal with that part later I think!
A note written by Rose Henderson on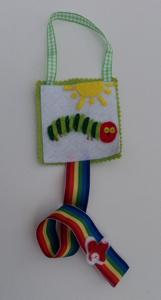 When I was at Bumps & Bairns I was asked by a friend to make a hair clasp holder that would fit in with her little girls Hungry Caterpillar themed bedroom.
I had the idea to have the caterpillar on the front and the butterfly on the ribbon, but aside from that I was stumped! Fortunately a little rummage around in my ribbon boxes, a little input from my eldest son (who decided on the sun) and a few quick changes so some of the caterpillar pieces I originally cut out and I was there.
I really enjoyed making this one, it was a nice little challenge.