A note written by Rose Henderson on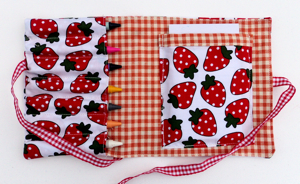 A note written by Rose Henderson on
A bit more about me again, as I am half way through many different orders and attempting to get some new items together for my event on Thursday night. So, instead of spoiling some of my Thursday night surprises I'll show you where my products are created — Red & Rosy HQ!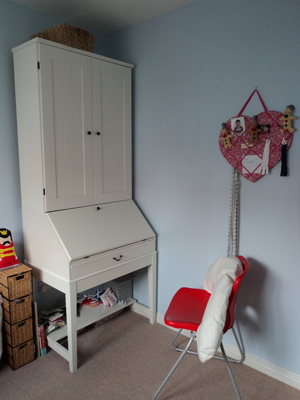 This is my desk, now I have finally been let into the house. When I first started, I had a large space with two desks, a space for cutting out, a space for piling up fabric etc — but that was in the garage. The un-heated, had to put the tumble drier on in order to feel my fingers garage — in January! I was at one point sitting sewing with gloves on while my husband sat in his lovely, cosy warm office upstairs that had heating, a carpet and proper light from a window.
Eventually, he realised I was in fact serious about what I was doing and got me this desk. Now — I have always, always wanted something like this. I sold it to him on the promise that it would stay closed when I was working so he would never see any of my stuff lying around. That wasn't strictly true, and this picture is a very rare shot of the desk closed, and the floor space around the desk hoovered and not covered in bits of thread and scraps of felt.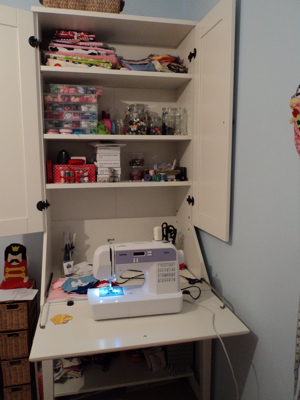 This is how my desk usually looks! A bit messy, but full of inspiration. Boxes of ribbon, jars of buttons and lots of lovely fabric. For me it's the perfect workspace, lots of pretty things and my lovely Cath Kitson sewing tin on the bottom shelf, that is already dented and covered in scrapes from the boys taking it out and playing with the (yet more) buttons inside.
So there you go — this is where all of my lovely products are created, well there and my very comfy sofas in the livingroom!
A note written by Rose Henderson on
…and it was for my brand new niece too!
I have been desperate to show you all this for a couple of weeks, but we have only just managed to go and meet our brand new niece today due to our over-abundance of germs in our house!

This one did take few attempts — firstly I know that my sister in law is not an overly fussy girlie type of person and pink isn't exactly in her top 10 of favourite colours. Plus, I know that she will be sharing with her big brother who already has a blue and red Star Banner, and a bedroom with lots of bright colours. I did attempt it in different colours all with a pink background but it looked far too fussy, I attempted it with a little blue to match the stars but it just wasn't girlie at all — so eventually I settled on the red.
I'm quite pleased with it — not too fussy or girlie but definitely for a little girl.