A note written by Rose Henderson on
There are a few changes happening to the site at the moment, please bear with me (who am I kidding, bear with my husband!) while the site has a little maintenance under the bonnet!
Finally, I am getting round to using this part of my site the way it was designed to be used, as a blog. My actual first Blog post is slightly more negative than I intended it to be, so I have scheduled that for upload another day and instead I am going with something a bit more useful — a little introduction to me and an explanation about why I sew.
If you have read my about page then you will know the basics — Mum to three boys, married to Web Man Walking and living in East Lothian. But why do I sew, why go from being a PA to sewing Name Banners and the like?
To be fair, the answer is simple and it's hardly rocket science. It's my Mum's fault!
Ever since I can remember, we had a well used sewing machine in our house. The earliest item of clothing I remember loving were my pink with white polka dots knickerbockers (this would have been around the late 70's I would imagine) that my Mum made for me on the dining table in our back room in our house on Bridgend Road (that's where my love of Chinese Take away came from too — the Chinese was next door!).
When we moved up to Scotland, my Mum took on various working from home jobs, the most memorable being when she made stuffed Nessies and bagpipe covers for a gift shop in the Royal Mile — my brother and I would argue over who got to pull the thread off the fringing of the bagpipe covers or who would get to roll up her measuring tape.
I can't remember her ever teaching me to sew, but I remember sitting down at a sewing machine during my first year at high school, threading the machine quicker than any of the other girls in my class and loving how I had a huge variety of fabrics at my finger tips — I went on to do Standard Grade Home Economics as it encompassed everything I loved to do — experiment with cooking and experiment with sewing. I adored my teacher who loved my passion for all things under her umbrella and encouraged me at every turn.
After Standard Grade I went onto Higher and had every intention of leaving school to train to become a Home Economics teacher, unfortunately during my Highers I missed a lot of school due to my Grandfather passing away, we stayed away from home for around a month and no matter how hard I tried, I had missed too much and had to drop one of my highers and fell too far behind in my Home Economics higher to get a grade that I could take further — the only higher I did catch up with was Secretarial Studies which I did really well at, so I sort of fell into office work despite never quite deciding what I actually wanted to do when I grew up!
Having children made me think a bit more about what I can actually achieve and the sort of example I set to my children, I don't want them to see going to work as a chore, and really want them to grow up confident in the career they pick, so I took a long look at what I actually wanted to do.
Which takes me neatly to here! I take great pride in the work I produce and try to give any items I make my own unique style. I love the work I do, and while there are hiccups along the way (hence my slightly more negative post later) I can hand on heart say I am doing something that I genuinely love doing — it's not a chore, it's not boring and there is always something positive to show at the end of the day.
Now I just need to find that Nessie pattern my Mum used to use, I quite fancy giving it a go myself…
A note written by Rose Henderson on
We watch WAY too much Ben 10 in this house, my 2½ year old asks for it all the time, my five year old has quite possibly every alien you could possibly purchase along with cars, camper vans etc and now my one year old is starting to sit and watch for a few minutes at a time too. So when we got a party invite to a friends party who we knew loved Ben 10 just as much as us (I have no choice, I have to love it!) my eldest decided that what he would like, no what he would really love is his name on an Omnitrix, and a Birthday Badge to match.
Of course, being the wonderful mother I am I decided to pander to his request — it, of course, had nothing at all to do with my fear of taking all three of them birthday gift shopping on my own!

So here is the finished result, all made for Charlie. We really hope he liked it, we really enjoyed making it and I'm now adding it to my folder of Name Banners available to order.
Priced at £12 for up to four letters, and £2 for each additional letter. And for September only, if you purchase a Ben 10 Name Banner you will get a free Birthday Badge!
If you would like to order, please email me on rose@redandrosy.com
A note written by Rose Henderson on
Finally, a Blog post about my little denim pinny's!
Each one of these are handmade from upcycled jeans and totally unique — no two pinny's are the same. At the moment I only have these three available, I have two adult ones sitting waiting in my sewing basket to be finished off as soon as I finish my current orders.
First up is Pinny one (unique name huh – I really need to name them properly). It has a floral frill round the outside with matching heart. The measurements are:
38½cm wide (frill to frill),
22cm high (from waistband to bottom of frill),
The total length of the two straps and waistband is 91cm.
The frill, embellishment and sewn on ties are 100% cotton, the main part of the pinny is made from upcycled denim jeans.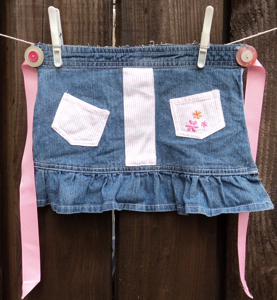 Pinny two simply has two pink candy striped corduroy pockets with a matching stripe down the middle. The measurements are:
32cm wide,
24cm high,
The total length of the straps and the waistband is 101cm.
This pinny is made from upcycled pink candy stripe corduroy, upcycled denim and the straps are made from ribbon which is finished off with four buttons on the waistband.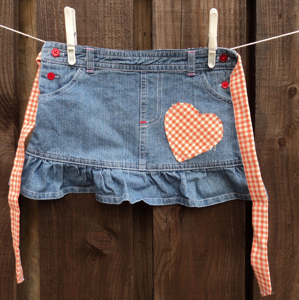 Pinny three simply has a red gingham heart embellishment, four red buttons and matching gingham ties. The measurements are:
32cm wide,
24cm high,
The total length of the straps and the waistband is 97½cm.
This pinny is made from upcycled denim and red gingham.
All of these pinny's are priced at £7 each plus postage costs.
As always, if you would like to place an order or make an enquiry then please email me on rose@redandrosy.com