A note written by Rose Henderson on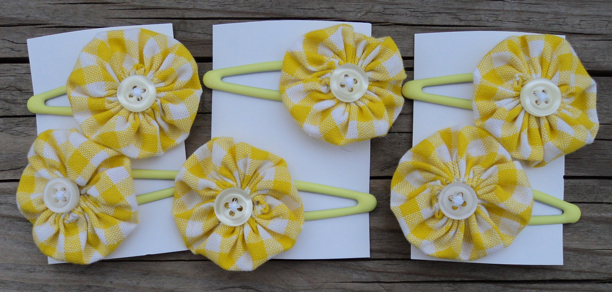 Title explains it all really — back to school hair clasps were my project of choice a few weeks ago.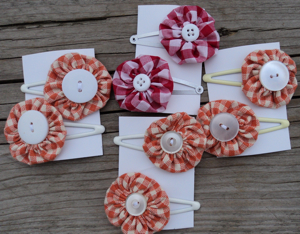 These are available in yellow, pink, blue, green and red gingham (2 different styles of gingham in red).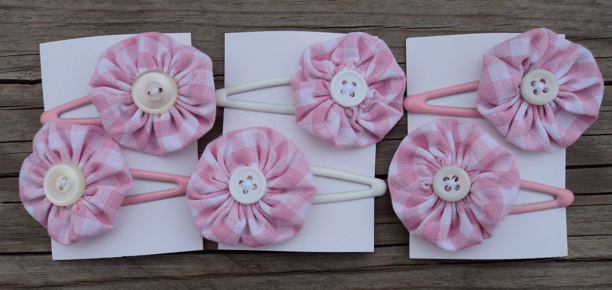 Each are finished off with a white button (or in the blue, a matching shade of blue button) and are hand sewn onto the hair clasp — I just wasn't convinced that after gluing the flower was going to stay on, so I hand stitched them too.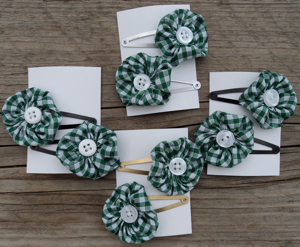 I have already sold a few of these to some of the Mum's at school, it was actually one of the Mum's ideas as she was struggling to get affordable hair clasps to go with the lovely gingham dresses little girls wear to school.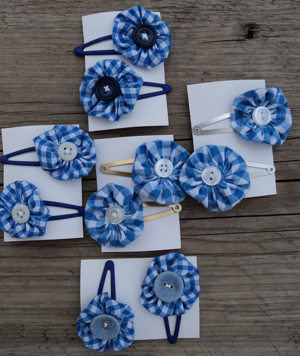 Once the gingham ones were finished, I grabbed a few scraps of fabric that Natalie along at OliDolly had kindly given to me, and sewed a few more.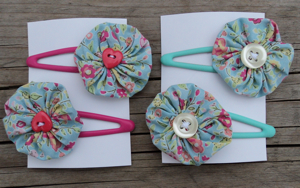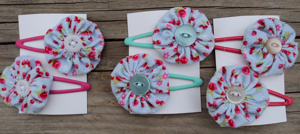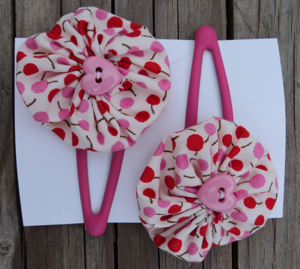 Once I had exhausted that supply, I decided to use up a few of the embellishments I had lying around the office and made these lovely pink flower hair clasps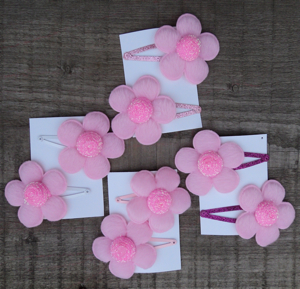 These are all priced at £3.00 per pair plus postage and you can order them by emailing rose@redandrosy.com. Please note that any clasps that aren't gingham are the only ones I have available — I have ran out of the fabric and embellishments!
A note written by Rose Henderson on
Good morning from Red & Rosy HQ. I am hoping to get a few more products added onto the site later on this evening, but before I do I really should do a shout out for my web developer who lovingly put my site together with all of my strange demands ("you know, I really want a sewing sort of writing but nothing too sewingy" plus the classic line of "I want it to be plain but showy" — poor, poor, poor guy!).
I never fail to be amazed at how much time it takes to put together a decent site that works well under the bonnet. This has been a work in progress for quite some time, and I am very fortunate to be married to the very talented Web Man Walking who worked at this for weeks in his spare time, so thank you very much for all of your hard work Ed.
Now, I have some products to add and I can't quite remember how you told me to do it, can you give me a hand please…
A note written by Rose Henderson on

After a successful day yesterday at Bumps & Bairns, it's time to get some products online.
Name Banners are one of my most popular products, from the word go (1st February 2010 to be exact!), which took me by surprise to be honest.
The professional, white background pictures were taken by Colin Read at Davidson Read Associates some time in January before my big Gift Butterfly launch. They have changed slightly in design since then but the measurements are still the same. Each shape will measure at least 9cm tall, and all are hand cut and hand sewn by me, which is why the turnaround at the moment is seven days.
Each Name Banner is priced the same — £12 for up to four letters and £2 for each additional letter.
These Name Banners make fantastic, personal gifts. I have made banners for:
new babies
siblings
birthdays
christenings
First up is my most popular Name Banner for boys — the blue and red Star Banner.



Even though it is popular for boys, I have had a few orders for girls versions as well.


If you like, you can mix up the different styles I do to create something a little more unique like the banner below for baby Joy.

The pink heart banner is by far my best-selling Name Banner — this was a slightly later addition to my collection and was created on a whim one night. To date I have made 32 of these and every single one in pink. I can do them in different colours — honest!

I think my most favourite banner is the Caterpillar one — fits into most room schemes and makes a lovely new baby gift along with the hardback book.

My Cupcake Name Banners are next.

The multi-coloured banner is my favourite make so far — it displays some of the different colours available and it shys away from the traditional pink or blue new baby gifts.

Of course, the pink version is still very popular though.

Finally, something brand new — circles in blue and white.

All of the above can be created in different colours and styles, if your would like to order any of my Name Banners please contact me on rose@redandrosy.com