A note written by Rose Henderson on
So, how do you fancy winning this?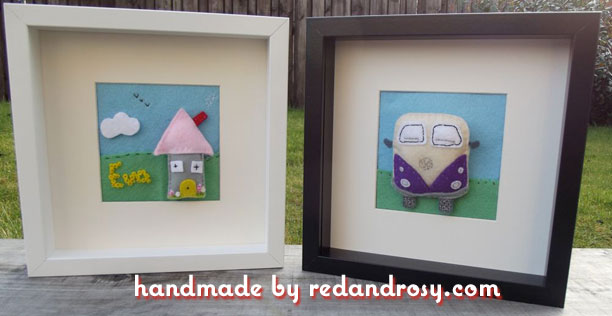 A Felt Box Frame of your choice. It can be an entirely new design, or something similar to what I have previously made. This is worth up to £45 not including the postage costs, and all I want you to do to enter is share this Blog post on your Facebook Page.
To do this all you have to do is go to my Facebook page (please Like it if you haven't already) and on my Wall will be this Blog post — please Click share (next to Comment) and you are entered!  I am able to see who shared it, and will enter you into the Giveaway.
PLUS
If you are inclined to comment here, on my Blog, after you have shared then I'll enter you into another draw to win a Star, Heart or Circle Name Banner of you choice. It doesn't need to be much, even a hi will do :0)
The giveaway closes on Friday at 8.00pm and winners will be announced shortly after. Good luck, and please Share!
A note written by Rose Henderson on
It's finally here — my brand new website!
For those of you who are new, hi (big wave). My name is Rose and for the past two years I have been working from home, making gifts from felt, fabric, buttons and ribbons. I have three boys, Jack (7), Toby (4) & Noah (2). My eldest boy is the artistic genius (!) from Jack Draws Anything and has raised over £30,000 for the Sick Kids Friends Foundation, a charity whose services we frequently use due to our youngest son Noah having Bronchilitis. Our middle son Toby also frequently attends due to being the most accident prone little boy we have ever met!  Jack also has a book published of his work, making him Hodder's youngest ever Author aged 6.
You should read Why I Sew for a little bit of background from way back in 2010.
My Blog isn't just about the items I make, it's also about the little things that go on in life. Last year I fell off the face of the planet due to Jack's fundraising but now things are getting back to normal at Team Hendo and I can finally concentrate on what I love doing — sewing, stitching, creating and buying ribbon!
Thank you for stopping by, please feel free to send me a message.
A note written by Rose Henderson on