Angry Birds
A note written by Rose Henderson on …
Wow — it's been a very long time since I updated the blog, apologies for that.
Family wise, it's been total chaos here with all of Jack's fundraising efforts over on Jack Draws Anything, but that's a post for another day! We've also had Noah back in hospital again, Toby starting nursery and a little trip to London to appear on the Fern show as well.
Not updating the Blog hasn't meant that I have stopped making and taking orders — I have made numerous Name Banners and have quite a few email enquiries to get through over the course of this afternoon and this evening, then I can get on with a few more Blog posts and showing you what I have been making!
But before I do, I wanted to show you what I made the boys for Easter, with the help of a fantastic online tutorial over at Obsessively Stitching.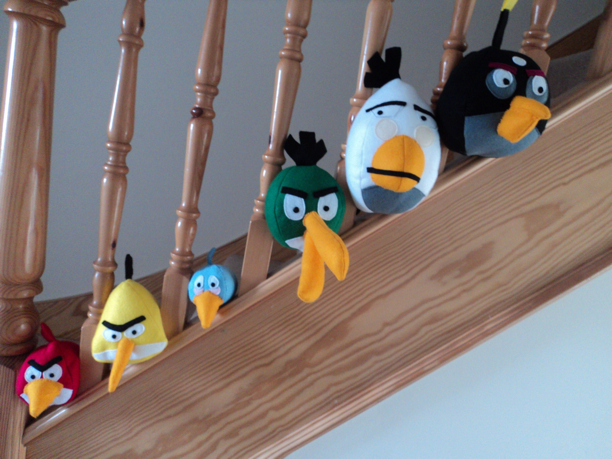 A set of Angry Birds! Having three boys, our house tends to be over-run with chocolate that lasts well into the summer, so I wanted to make them something that wouldn't be rationed every day and that would last a lot longer than a chocolate egg, and these really have done the trick!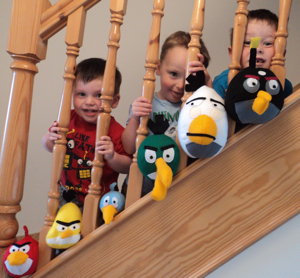 Not a day goes by where I'm not hit by an angry bird being thrown at something or other!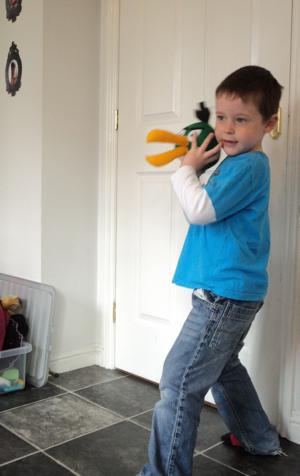 The only thing I would change in the pattern is stitching on the beaks and sticky up bits a bit more securely, as they get carried by whatever sticks out, as Toby is kindly demonstrating.
Even Noah has the hang of them — even though Toby and Noah have never played the game they still understood the concept of taking an angry bird and throwing it at whatever structure they had made out of Duplo or the contents of the Recycling box. The games they have came up with these are fantastic and just goes to prove that the most simple of toys are the best ones to play with.
Although when I say simple, making one certainly isn't for the faint hearted — they took quite a bit of cutting out and pinning in order to get them just right. And don't even get me started on how difficult the beaks were to attach.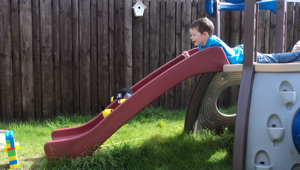 Though when you see them all playing together and jointly making up structures, I don't mind that my finger is still raw from shoving the needle through numerous layers of felt!
Thanks for taking the time to read, more Blog posts should be coming over the next few days including one about our adventures in London! Note, it will contain a lot of ranting about attempting to use the train to travel from London — Edinburgh on a Friday, really big mistake!