A bespoke order
A note written by Rose Henderson on …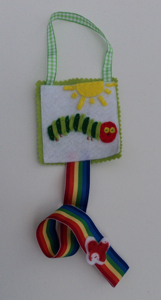 When I was at Bumps & Bairns I was asked by a friend to make a hair clasp holder that would fit in with her little girls Hungry Caterpillar themed bedroom.
I had the idea to have the caterpillar on the front and the butterfly on the ribbon, but aside from that I was stumped! Fortunately a little rummage around in my ribbon boxes, a little input from my eldest son (who decided on the sun) and a few quick changes so some of the caterpillar pieces I originally cut out and I was there.
I really enjoyed making this one, it was a nice little challenge.