Remember I promised a Dalek?
A note written by Rose Henderson on …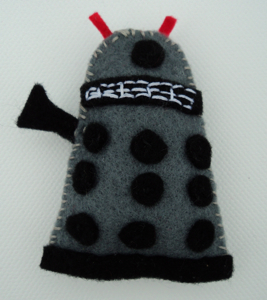 Here you go! It's teeny weeny, designed to be a little badge for my son's 6th birthday (he is Doctor Who mad!) but he unfortunately spotted it. I would like to say he was overjoyed with it, but the first words out of his mouth were "why is it so small, is it to exterminate bee's?" and I promptly went in the huff!
I am hoping to make some of these either into little badges to go in his party bags or as little beanbag games with Daleks — still not entirely sure where on the badge I could put a six but I will deal with that part later I think!