Ahoy there…
A note written by Rose Henderson on …
Another new Name Banner. This time in a nautical, boaty, sailing theme.

The letters are made from white felt and are 4½ inches tall. The boats are made from grey felt, white buttons, red gingham and blue striped fabric, and it's all held together with red gingham.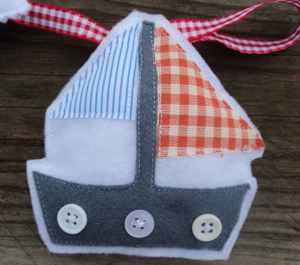 The picture doesn't really do it justice, the white just doesn't photograph well (neither does pink when I do the cupcake banners) but you can get the general feeling of it hopefully.
At the moment, these are priced at £12.00 for up to four letters, with each additional letter costing £2. This will only be for January though, I will be reviewing my Name Banner prices at the end of this month to reflect the time it takes to make each one, so this one will be going up slightly.
Thanks for looking!