Big changes ahead!
A note written by Rose Henderson on …
Over the next few weeks you should be seeing a few changes to Red and Rosy. Firstly, the website which is frequently overlooked is getting a bit of an overhaul. The colours are exactly what I want, but for a while my web developer and I have been trying to figure out exactly what functionality the site needs. It's now a whole year since Red and Rosy launched and I think that finally I know what exactly I want from my website — so there will be quite a few changes which in turn will hopefully help me to Blog a bit more — after all if you look at my About Me page what I say I want my site to be about and what it actually does are two entirely different things!
Secondly, I'm going to be giving Folksy a go as well. I have heard lots of positive and negative things about it, but until I give it a go myself then I can't really say that I am doing all I can to build my little business if I haven't given the one very obvious place for selling craft items in the UK a go.
Third — I am branching out a bit. I adore my Felt Box Frames and right now I feel that the best way to go is to try and get these into shops. I need to get my brave hat on as I'm not very confident in selling myself to be honest but I do believe that my Felt Box Frames are lovely and I do think that if I had them out there to a wider audience then they would hopefully sell a little better.
Forth and finally — I finally have a 10 year career plan! I'm 34 and never in my life have I even had a one year plan, I fell into office work and worked my way to the top of what I could possibly be (P.A. to Managing Director of a fairly massive company) and to be perfectly honest, it made me miserable and I lived for weekends and holidays. I can hand on heart say now that I have finally found something I want to continue to do for years to come, and while it may not look like much to many people it is a huge step for me. So, hoorah to finally deciding what I want to be when I grow up!
And on a personal level (as if career wasn't personal enough) things are at best manic, at worst complete and utter chaos at the moment. Our house was on the market, we had a buyer, purchased a new place near the boys school, then on the last day of term our buyer pulled out. It's taken us two weeks but we have now got back on the horse and the house is going back on the market again next week. Things were clearly not meant to be for us at that point in time, but the right buyer will come along eventually and at that point, the right house will be available for us to buy. I have great faith in the universe working that way. I also have great faith in karma biting the backsides of the not so nice people but that's an entirely different story!
Things with Jack's charity fundraising (Jack Draws Anything) have quietened down at the moment, his fan numbers on Facebook are steadily climbing, he is still loving drawing and we are doing all we can to encourage yet not force it on him, and today we approved the first draft of his book. This Friday it will all be finished and what will be the calm before the storm will commence, a couple of months of being nice and normal again before the book launch on October 6th!
But, on with the photographs! I haven't photographed very many of my makes over the past four weeks as I am a drip and keep forgetting, but I did manage a photo of a couple of Name Banners: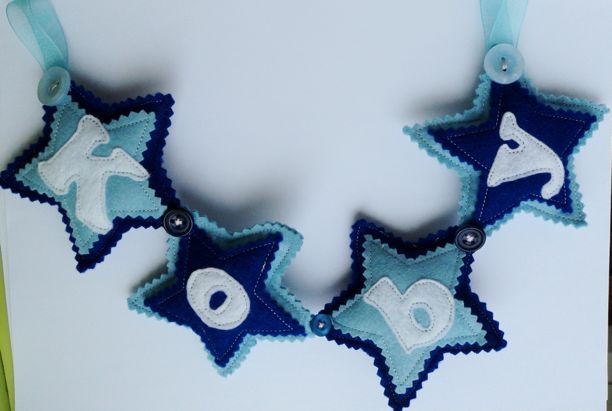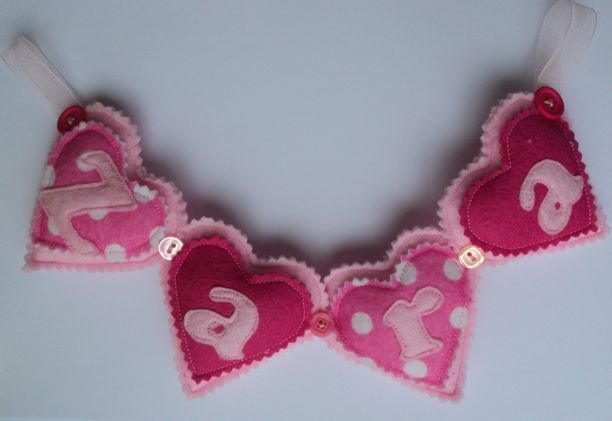 I have made other things, honest!
If you are looking to get hold of me, have a question to ask, would like to place an order — even if you just want to say hi please feel free to get in touch on rose@redandrosy.com . And remember to keep your eyes peeled for all those lovely changes I have in store…
Tagged:

felt
heart
name banner
rainbow
butterfly