Felt Box Frame — Mounted
A note written by Rose Henderson on …
Finally, my new project I have been working on (and tweaking) since the start of January is ready to show you. I'm only going to show you one today — but there are more in the pipeline and one finished and photographed to show you tomorrow!
Again, along the lines of a personalised gift for a new baby, or for child who has practically everything (having three boys, I don't think there is one boys toy out there that we haven't / have owned!) — but a little more fancy than a Name Banner. So, here we go (gulp), I give you all my new Felt Box Frame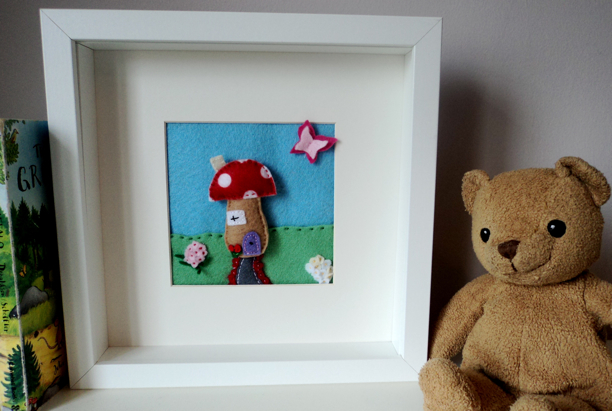 The art is in a white Square box frame measuring 10inches, this one is in a mount which makes the felt picture 4½ inches square. In this frame, everything is hand cut and hand stitched by me, right down to the little flowers lining the path. The toadstool is slightly padded (you can't really tell from the picture, must take one from the side so you can see the details) and the butterfly overlaps the mount slightly.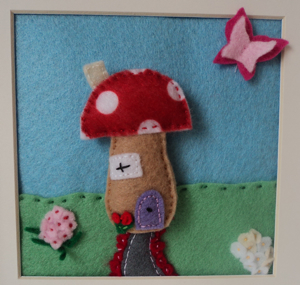 This is an example of what can be done, and a few more examples will be coming over the next couple of days, but the possibilities are endless and this is something that I am genuinely excited about! I'm not going to give too much away, but the one I have to show you tomorrow is a lot more detailed than this one.
Prices for this start from £20, prices will vary depending on the amount of detail required in each picture — remember everything is hand cut & hand stitched by me and no two frames will ever be the same.
I really hope you like it, keep your eyes peeled for the next one tomorrow!