A note written by Rose Henderson on
As promised, the next box frame.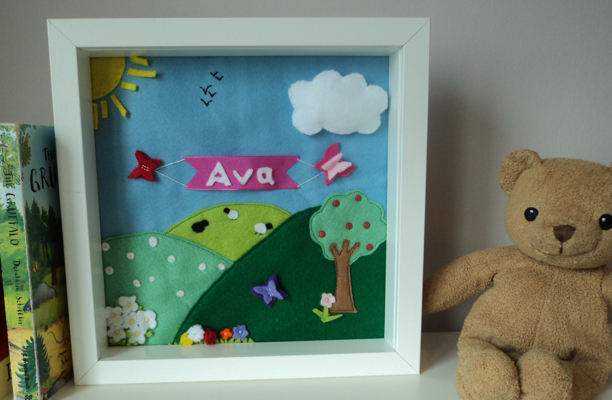 This is again in a 10 inch squared box frame — this time the picture is un-mounted and takes up the entire frame.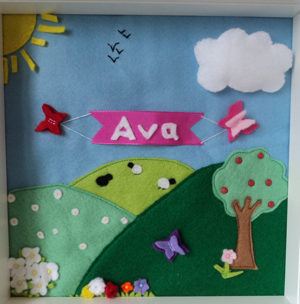 Again, the possibilities for this frame are endless, but I really enjoyed putting this together on a cold, wet and windy January day. You can see a bit more detail in this one, like the padded cloud, the 3D butterflies and the flowers.
Again, with this frame everything is hand cut by me, the tree and the hills are machine stitched and the rest is hand stitched and embroidered. I have had a lot of very good suggestions from friends about how I could add to this and different ways of displaying different names, if you have an idea in mind of one you would like me to make then pop me an email to rose@redandrosy.com.
By far the thing I love the most about this frame is that it makes me feel all summery and reminds me of staying with my Grandparents during the summer holidays in the beautiful Welsh countryside, if I could have put grasshoppers in this I would have! And, as a little nod to my Aunt and Uncle and their flock of black sheep, I had to pop one in there.
This frame will cost £30 because of the detail in it, if you are interested in commissioning some Felt Box Frame art then please do get in touch — you can contact me by emailing rose@redandrosy.com.
I hope you all have a fantastic weekend — mine is going to be taken up with preparing stock for next week's Bumps & Bairns sale in Haddington. If you local, you should pop along, there is a fantastic cafe with home made soup and proper coffee, and lots of bargains to be had (last time we got a giant rucksack full of Transformers for the boys for just £2!)  And if your interested in hiring a table, for either craft or pre-loved baby/child items then please contact Natalie on info@bumpsandbairns.com.
A note written by Rose Henderson on
Finally, my new project I have been working on (and tweaking) since the start of January is ready to show you. I'm only going to show you one today — but there are more in the pipeline and one finished and photographed to show you tomorrow!
Again, along the lines of a personalised gift for a new baby, or for child who has practically everything (having three boys, I don't think there is one boys toy out there that we haven't / have owned!) — but a little more fancy than a Name Banner. So, here we go (gulp), I give you all my new Felt Box Frame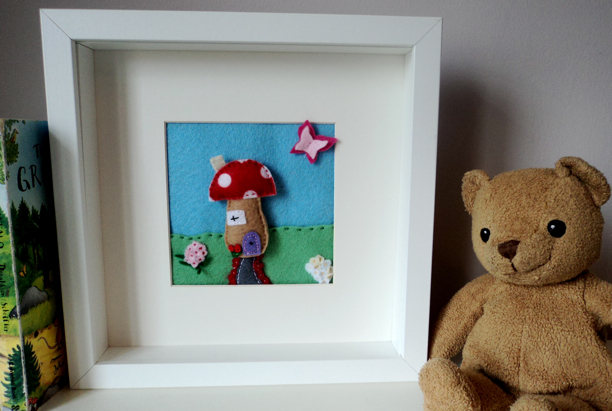 The art is in a white Square box frame measuring 10inches, this one is in a mount which makes the felt picture 4½ inches square. In this frame, everything is hand cut and hand stitched by me, right down to the little flowers lining the path. The toadstool is slightly padded (you can't really tell from the picture, must take one from the side so you can see the details) and the butterfly overlaps the mount slightly.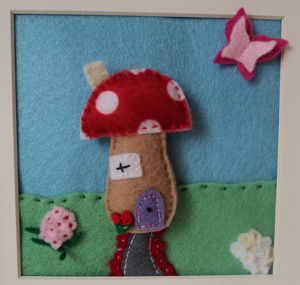 This is an example of what can be done, and a few more examples will be coming over the next couple of days, but the possibilities are endless and this is something that I am genuinely excited about! I'm not going to give too much away, but the one I have to show you tomorrow is a lot more detailed than this one.
Prices for this start from £20, prices will vary depending on the amount of detail required in each picture — remember everything is hand cut & hand stitched by me and no two frames will ever be the same.
I really hope you like it, keep your eyes peeled for the next one tomorrow!
A note written by Rose Henderson on
I have not one, but two new style Name Banners to show you tonight.
Girls one up first! I have been wanting to make one like this for a while and had the ideal opportunity when I got a text from a friend asking if I could make a banner for a new baby called Mya, and I could use whatever colours I felt worked. I am typing this like it was a challenge I relished — in reality being told to use any colours and a butterfly design that you haven't tested out yet is a little scary, especially considering the little knock to my confidence I had a few weeks ago.
But, I managed it. Eventually. After much un-picking, re-cutting and abandoning half sewn still in the sewing machine because it wasn't the same as what was in my head — I finally got it finished yesterday and felt sort of happy with it.
So — here you go (opening myself up to the nastiness of a few weeks ago is a little scary I have to admit):

So, in colours of my choice, the butterfly banner. Again, gulp!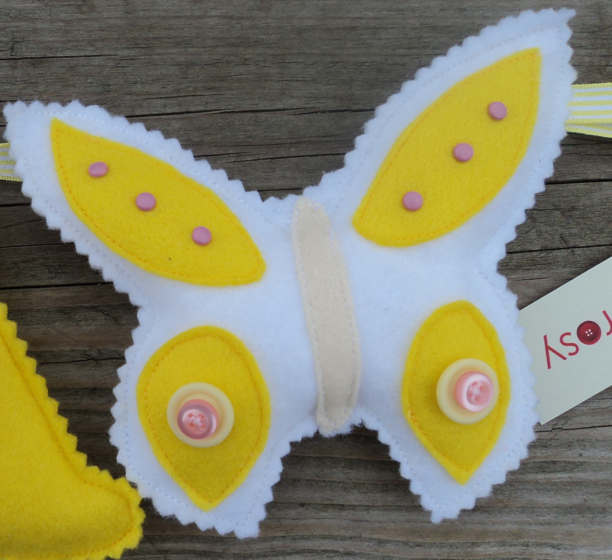 Close up of the butterfly part…
…and a close up of one of the letters with the butterfly attached.
Again, I would like to point out the colours were entirely of my choice — I just have a bit of a yellow thing going on at the moment.
Secondly was another challenge, and as much as I hate to say it, the problem was solved by my husband.
The brief — he likes Woody, Buzz and Army stuff. Woody and Buzz were definitely out, but I guessed that if he liked Woody and Buzz he would also like toy story, then my husband stepped in with the "we have some Toy Story army men, why don't you put them on a banner".
Originally, they were hanging upside down between the letters and looked, well, naff. So we ended up settling on this:

(apologies for the picture quality, it was dark outside and we were dropping it off pretty much as soon as it was finished).
The two bits either end are parachutes, with army men dangling from them. And his name is in camouflage printed felt.
Again, please try to overlook the awful, awful photograph. I hate using a flash, and hate seeing people's badly staged photos with the flare from a flash on their business pages, but I had no other way to light this at all.
Onto the boring, explanation stuff. The letters in these are 4½ Inches tall (so quite a bit bigger than my other banners) which makes the length of the banner longer too.
These are priced £12 for up to four letters (£2 for each additional letter) until the 28th February 2011- I will be having a complete price re-structure on the 1st March and these will be considerably more expensive because of the amount of time put into making each one.
If you would like to order one then please, pop me an email on rose@redandrosy.com. I really hope you all like them!