A tutorial written by Rose Henderson on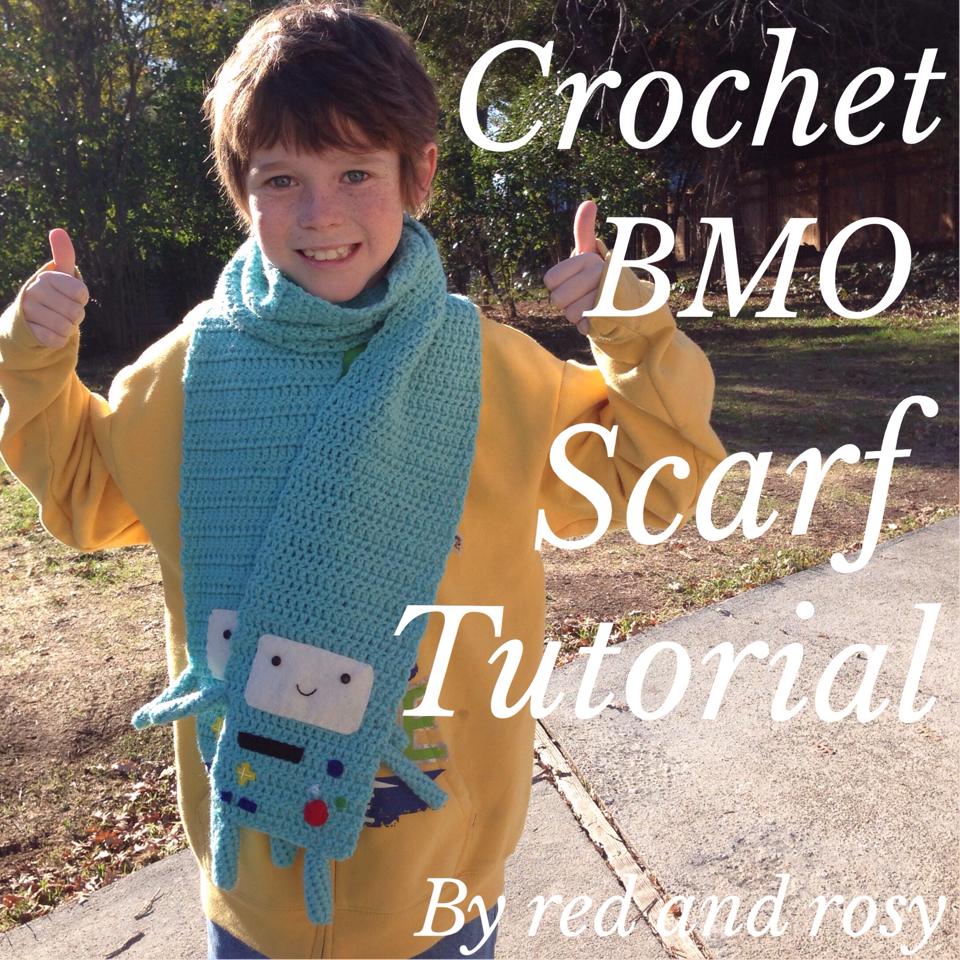 A few months ago, my 9 year old asked me if I could make him a Scarf that no–one else had at School. We compiled a list of his favourite TV programmes, had a look around to see what was available in local stores and whittled the list down to BMO from Adventure Time.
Before I go on, I would just like to let you know that I only learned how to Crochet a year ago, self taught through various Library books and the occasional YouTube tutorial. This is my very first attempt at writing a pattern, so please let me know if you spot any errors or if any part of this doesn't make sense. All crochet terms are US.
Materials required
1 Skein of Aqua Yarn (I used Red Heart Super Saver Aruba)
H Hook (5.00mm / UK 6)
F Hook (3.75mm / UK 8 or 9)
Yarn Needle
Scraps of felt in cream, red, royal blue, light blue, black, green & yellow
Print of attached PDF template
4 x Brads
Embroidery floss to match felt colours
Scarf
All crochet terms are US.
Row 1 — Using H Hook, Ch 22. Turn, and DC into 2nd stitch from hook. Continue for the rest of the row. Turn.
Row 2–129 — Ch 2, DC into 2nd stitch from hook for rest of the row. Turn.
Row 130 — Ch 2, DC into 2nd stitch from hook and continue for rest of the row. Fasten off.
Arms (Make 4)
Using F Hook, make a magic circle and SC 5 into the ring.
Mark your last stitch with a stitch marker, then SC 5 for the next 12 rows. Fasten off, leaving a large tail for stitching to the scarf later.
Legs (Make 4)
Using F Hook, make a magic circle and SC 7 into the ring.
Mark your last stitch with a stitch marker, then SC 7 for the next 9 rows. Fasten off, leaving a large tail for stitching to the scarf later.
PDF
Using the attached PDF, cut out felt pieces as marked.
Now for the fun bit!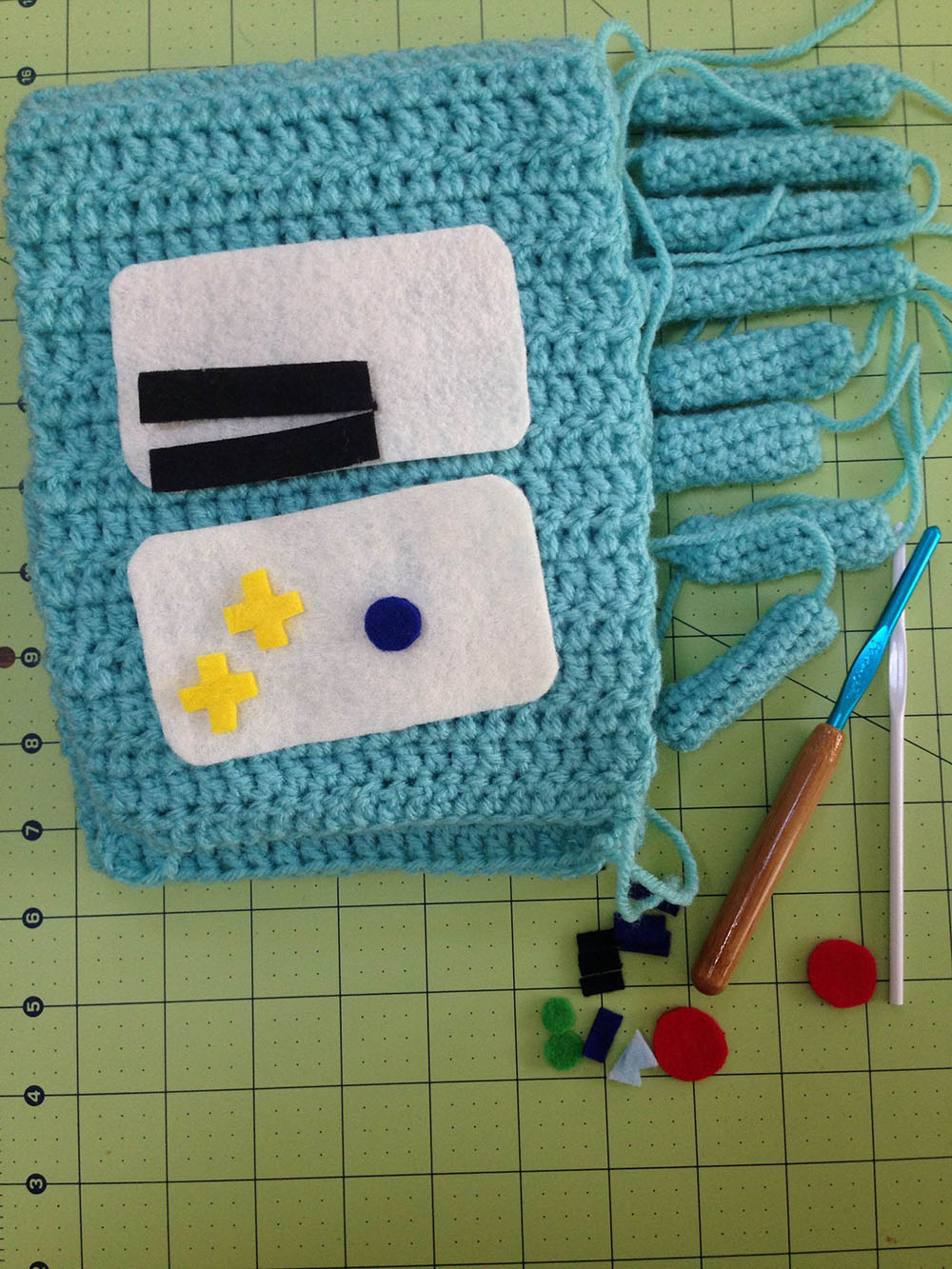 First, place the pieces at the end of the scarf as pictured below: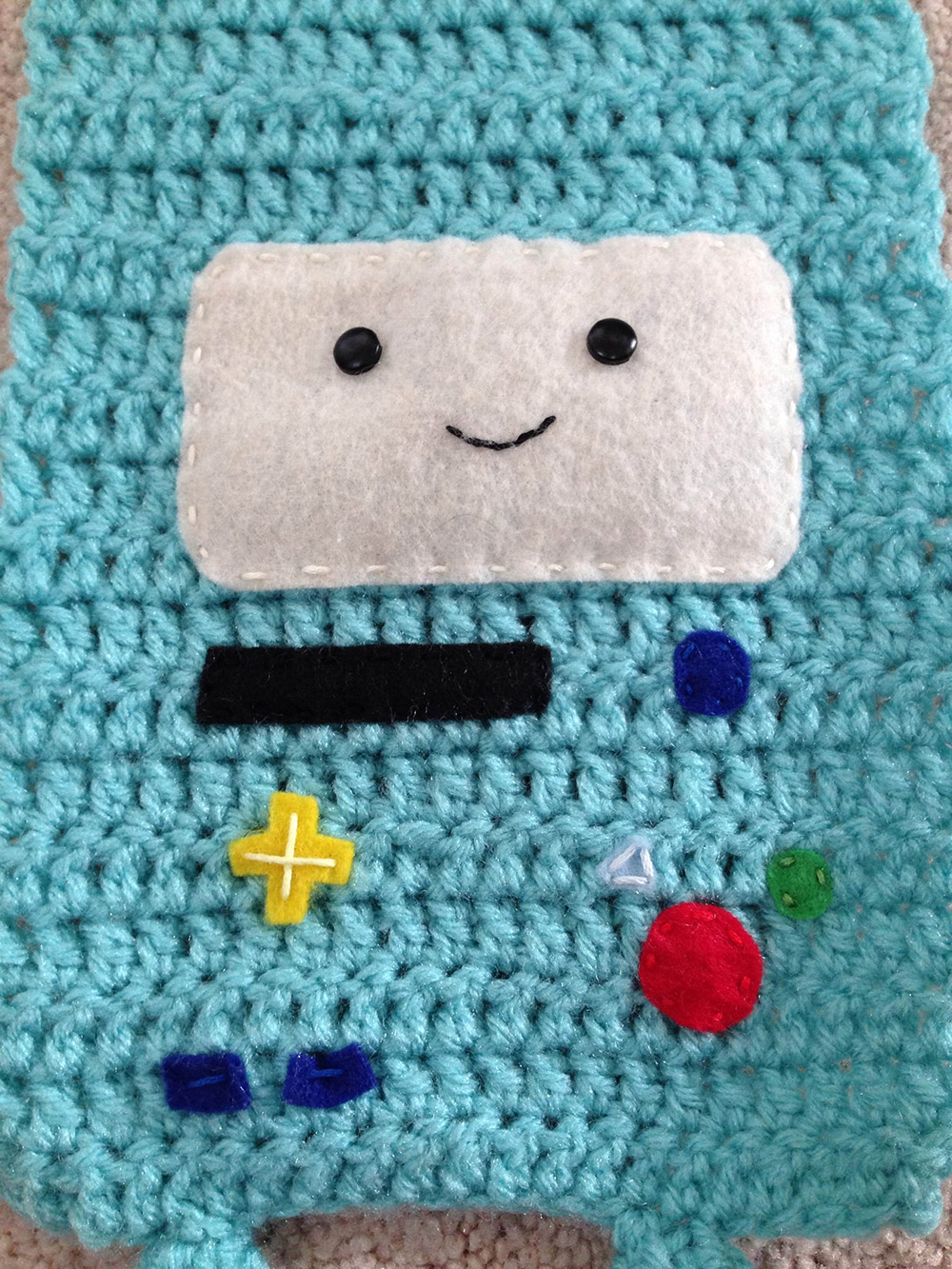 Attach the brads to BMO's screen to make eyes, and using a running stitch detail the mouth. Then, stitch the screen onto the scarf using matching embroidery floss (or not, depending on what you have in your stash).
I then attach the arms and legs using the yarn needle and a whipstitch, placing them where I feel they look "right". Have a go and trust your instincts!
Finished!
Ta–Da! Now you should have one fantastic looking BMO scarf ready for that special Adventure Time fan in your life.
As I said at the start, this is my very first Crochet tutorial, your feedback on any mistakes, parts I miss out or sections that just make no sense at all would be very much appreciated.
I would love to see any items you make using this Tutorial, please either share on Instagram, Twitter or Facebook using hashtag #redandrosy or email them to me, so I can share them too!
As this item is made using the likeness of a licensed character, this item should not be re–produced for sale. This Tutorial is for personal use only. Please do not reproduce, copy or attempt to sell my pattern or pass it off as your own.
I would love you to share this, but please link back to this post rather than copy and paste my text. Thank you for respecting the time and effort that goes into creating, photographing and writing my tutorials by crediting me when sharing, or pinning this Tutorial.
Rose
A note written by Rose Henderson on
Hello there! Well, its been a while! Settling into living in California was a little more difficult than we originally anticipated, but over the past month or so things have all started to click into place and I have been able to start again with crafting and creating.
During my absence I have experimented a little with embroidery hoops, taught myself to crochet and explored every craft shop I could possibly find as well as sticking with my old favourite, felt.
I have a number of Tutorials waiting to be published over the next few weeks, and hopefully I will start using the Blog a little more.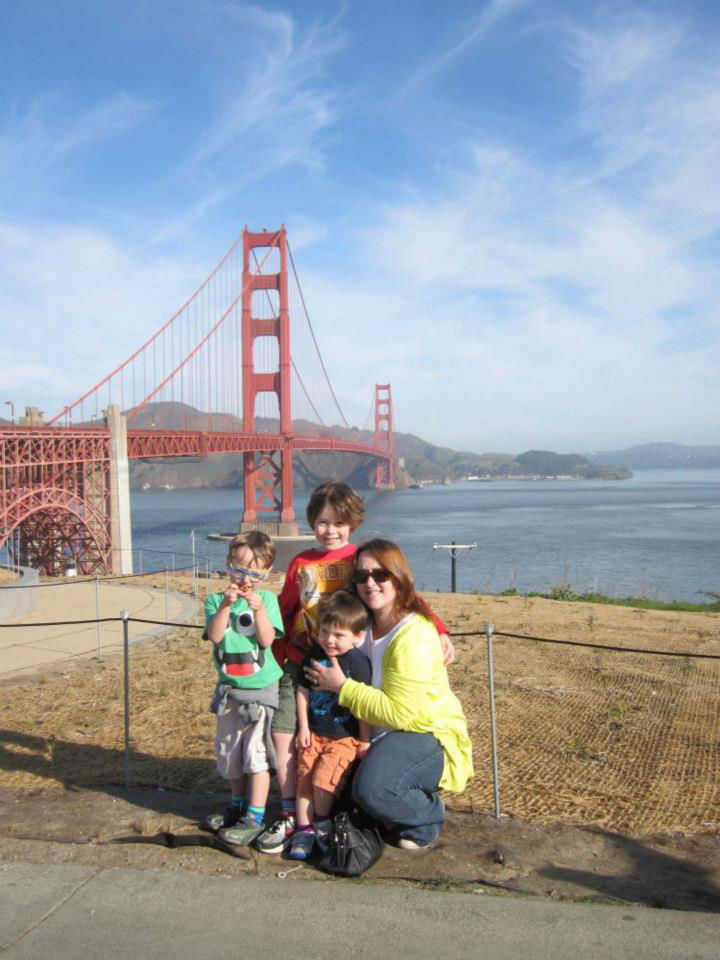 Thanks for reading.
Rose
A note written by Rose Henderson on
Well, it's once again been a while hasn't it? Apologies again, although I can genuinely hand on heart say that it has been one of the busiest times of our life!
So, what's happened since August 5th?
Firstly and most importantly our Visa documentation was approved! On Wednesday Ed and I flew to Belfast for our face to face interview, which went well. On Saturday morning our passports arrived with our shiny USA visa's safely attached inside — hooray!
Secondly, our house sale concluded (after 16 months and four buyers) and on Monday just past we moved out of our home of five years and into a caravan, our temporary accommodation. I'm not going to lie to you, it's a challenge. It's a lovely static caravan and is perfect for a holiday, but going from our old (and in my opinion very spacious) home into a two bed caravan has been, well, interesting. But it's short term.
We are now on the sad part of our adventure — we leave two weeks today and our days are filled with last visits to places and goodbyes. Leaving drinks are being organised, the boys are having a leaving party next week with a handful of their closest friends and close family goodbyes have almost all been arranged.
I will be updating the Blog more frequently now as we are finding our days less full as we get more organised. If you want to follow our new adventure remember to follow me on Twitter (@redandrosyhq) or on Instagram (@redandrosy) which is updated far more frequently than the Blog. To be honest, Instagram is updated many, many times a day!
Thanks so much for reading.