Hair Clasp Holders — Strawberry
A note written by Rose Henderson on …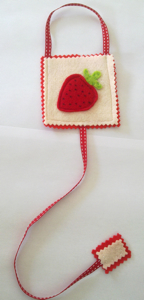 An example of my Strawberry Hair Clasp Holder.
Each pocket measures 9cm square and has a ribbon looped at the top so that they can be hung from bedposts, door handles or hooks.
These cost £4.50 and postage of these cost 70p.
if you would like to place an order for these please email me on rose@redandrosy.com .