Hair Clasp Holders — The Originals
A note written by Rose Henderson on …
For a little change I have decided that rather than just posting one big long post with lots of different pictures, I would have a theme week showcasing one product a week, detailing the different styles and colours available. And this week is the Hair Clasp Holder week!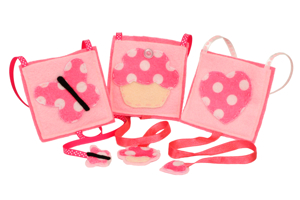 First of all I have my gang of "originals" — the girls who helped start Gift Butterfly and were my very first products. Made from felt and ribbon, the hair clasp holders have a pocket for hair bobbles, a long ribbon for storing your hair clasps and the new versions have a loop at the bottom to store headbands.
Each pocket measures 9cm square and has a ribbon looped at the top so that they can be hung from bedposts, door handles or hooks. The cupcake and heart designs can be personalised with an initial for an additional charge.
These cost £4.50 each, personalisation is an additional 50p and postage of these cost 70p.
As usual, if you would like to place an order for these please email me on rose@redandrosy.com .