Love is in the hair
A note written by Rose Henderson on …
Wow — my last post was on the 31st January and not entirely a positive one either! Lets just say that the events leading up to that post sort of put me off my stride for a couple of weeks, my home telephone line went down in the stormy weather which in turn knocked off our broadband, which only went back up this week. And that was just my technical problems!
In all that, I did manage to get making a few things, the biggest of which will be revealed on Monday or Tuesday, depending on how this weekend goes. However, I do have a few makes to show you all, just to show I haven't been sitting on my bum doing nothing for a fortnight.
Firstly, some new hair clips. It started out as a very sweet idea from my eldest son, this was the first Valentine Day that he understood and patiently sat one evening while I worked, drawing a Valentine card for one of the girls in his class. He then asked me to make something for her, drew a rough diagram of what he wanted, picked out the felt I was to use and sat and patiently waited while I whipped it up for him. He then selected how to present it to her, wrapped it up in tissue paper and nervously popped it inside his bag ready to take to school on the Friday (it was half term here this week, so he wouldn't have seen her on Monday). And look how cute a job he made of it: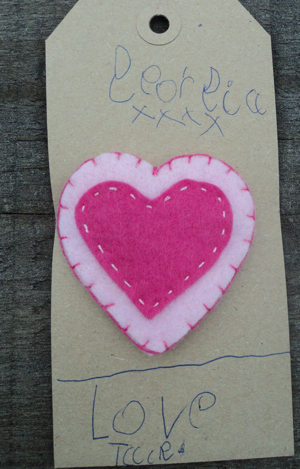 He was terribly nervous giving it to her, and did the six year old thing of "give and run". She loved it, and had a little gift for Jack as well, I'm impressed too as she knew exactly what to give him (Doctor Who book and sweets!), oh so cute!
To be honest, it inspired me. I sat and made more, many, many more…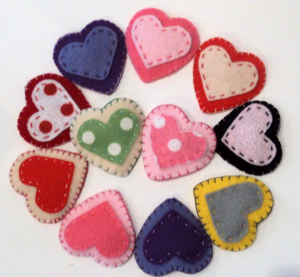 It's a fantastic way of using up my larger felt scraps, and I think they are really pretty too. I have a batch for the next few events I have, and once I got started I continued with the large felt hair clip theme and came up with these too:

Pretty flowers, and then went onto the butterflies…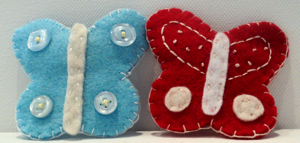 And, when I noticed how many red felt scraps I had after Christmas, I couldn't resist making these: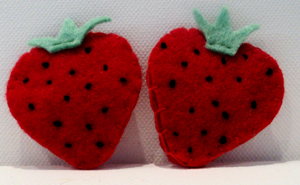 I feel lovely and summery whenever I see them, and that's a fantastically positive thing in this weather!
I also made a hair clip holder for a friend's little girl, butterflies and purple was the brief, and it was mainly to store those little Alligator clips you get, which she had a lot of.
So we went with thin ribbon, and this time made it with three bits to hang clips from — the middle ribbon still has the loop in the bottom for hairbands but the other two are just ribbons with the butterfly at the bottom to weight it and keep the ribbon straight. And the pocket at the top is a little bigger to store all those hair bobbles.
I'm now loving the detail of the two heart shaped buttons too, I got a large pack of various coloured heart shaped buttons last year but they were so small I wasn't quite sure what to do with them, but I think I am going to make a few more hair clasp holders for the different events I have coming up and use them to add a little more detail.
To be fair, aside from a few Name Banners that's all I've really felt like making, I haven't really been pushing the Facebook page as much as I should as I haven't really felt like making the effort with it — nothing like a good old bit of cyber bullying to put you off your stride, is there!
But while I am here, I didn't upload a picture of the hair clasp holder I put in the party bags for little girls who came to Toby's birthday party — I finally found where I filed it on the Mac!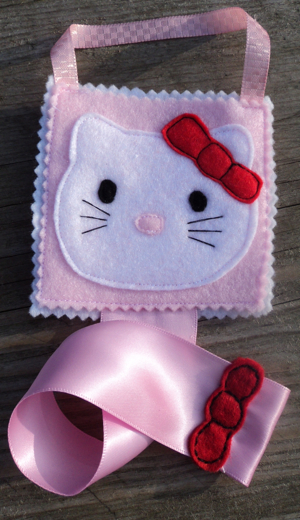 Those I have spoken to seemed to like it, and I think it's a fantastic idea for a party bag (perhaps that's because I make them though…).
Anyway, hope you all have a lovely weekend — I'm having a rare night out tomorrow night (woo hoo!) but first I have a huge pile of orders to get through, housework to do, clothes to put away…
See you all next week, with a fantastic new idea!