Rose goes blah, blah, blah
A note written by Rose Henderson on …
Thought it would be nice to do a Blog post where I wasn't saying "look what I made" (although there is a little of that underneath) and where I say hi to all my new fans (hi!).
It's almost a year now since I started making things to sell, and it's been full of ups and downs. The up's being the fantastic support I have had from people I don't actually know, fans of my Facebook page, customers online and in person and suppliers. Down being the one thing I didn't really think about when starting out — my work being mimicked. I have edited out most of this as it has caused huge debate on what can and cannot be copyrighted, and what is copying and what is just having a similar idea). I can't stop any of it, but what I can do is be honest in what I do, make sure I don't tread on anyone's toes, forget the whole aggressive marketing nonsense and trust that karma will do it's job. After all, the majority of us in this position are all Mum's trying to earn a living around childcare/house constraints and demonstrate a good work ethic to their children.
But onto far nicer things, like making things. I had a bit of a huff on Friday night as I was home alone, attempting to sort through my office and make some sort of sense of it (I have moved into the smallest room of the house, and now have to share with my husband's work stuff too). I have five massive boxes packed with fabric, and a small filing cabinet full too. That's before felt. And I haven't been motivated to do one thing with it all — I just couldn't think of anything I wanted to make. Fortunately I have some wonderful Facebook friends who gave me lots and lots of suggestions, and today I took some fabric out, turned it around and sort of waved the scissors in front of it, but still I just can't get my head to where it needs to be to start making these new things. I'm hoping that motivation comes and gives me a good kick up the backside soon and gets me back into gear, but right now I am faffing and not really getting very far with any of the projects I want to try. Which I suppose, is one of the problems with working for yourself — only one person responsible for an un-productive week and no–one to motivate you to get your bum into gear. Very. Frustrating.
But forgetting things like that at the moment, I forgot I hadn't shown you my hand-made masterpieces I made for Halloween. We had a little bit of a party for our children's friends at our house (we do the first year, hopefully we have five more years of parties not in our house, score!) and they all came in fancy dress. two of my children were very specific about what they wanted to dress up as, the 3rd could only grunt, which gave my husband this idea: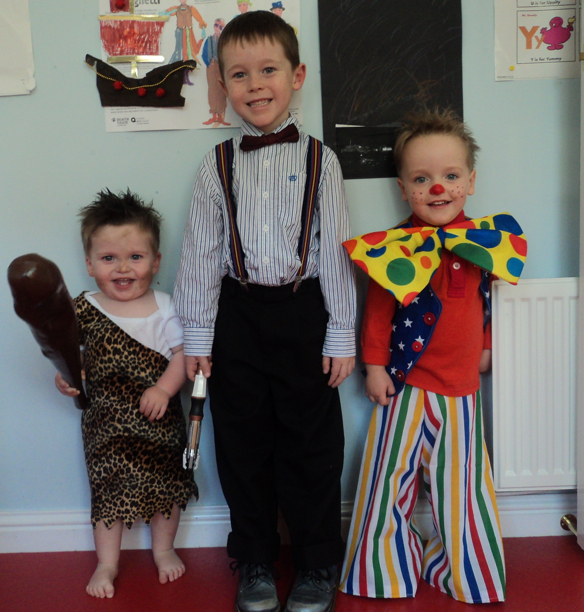 Honestly, how cute are my children!?!? My eldest son, who is in the middle, wanted to go as Doctor Who. But new Doctor Who, so no going to toys r us and purchasing that 11th Doctor fancy dress that was reduced! This was a total eBay trawl to get everything right down to the boots. I can't claim any of the glory for this aside from paying for it all, my husband found it all and spent many a Saturday night during X Factor (when eBay is really quite quiet) attempting to grab a bargain.
My middle son was determined to go as Mr Tumble. Have you ever tried to get a Mr Tumble costume, it really is difficult. And making one so he looks the same — well that's just bloomin' impossible! I couldn't find the orange fabric with the blue stripe for his trousers anywhere and just used some I had in my fabric stash. The waistcoat should be blue with yellow stars, and the bow tie much smaller and totally different colours — but Toby didn't mind and really loved his costume. I made the trousers drawing around a pair of his jeans to get the width, the waistcoat was made using their pirate fancy dress waistcoat as a template, and his freckles were made with my now ruined eyeliner (as he likes to dress up as Mr Tumble as often as possible).
My youngest son, quite possibly the most grown up 18 month old you could ever meet, was only able to grunt. So my husband decided he should go as cave baby and yes, that is real mud on his face fresh from our back garden.
The costumes were a hit, and have been worn many times since which made all the hard work worth it. Hopefully they will remember the time that their Mum made their costumes and they got to go as exactly what they wanted rather than a shop purchased costume that everyone else got to wear, although they may remember that as a bad thing rather than a good one!
I need to now go and find my mojo and do some sort of work, maybe I can go and wave my scissors about at some fabric and magically come up with something.
P.S. to anyone new, my Blog posts are usually much more upbeat, honest!