A note written by Rose Henderson on …
As promised, the next box frame.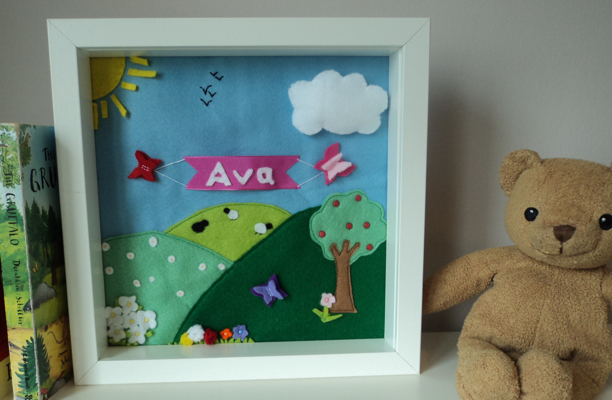 This is again in a 10 inch squared box frame — this time the picture is un-mounted and takes up the entire frame.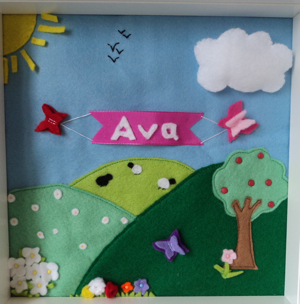 Again, the possibilities for this frame are endless, but I really enjoyed putting this together on a cold, wet and windy January day. You can see a bit more detail in this one, like the padded cloud, the 3D butterflies and the flowers.
Again, with this frame everything is hand cut by me, the tree and the hills are machine stitched and the rest is hand stitched and embroidered. I have had a lot of very good suggestions from friends about how I could add to this and different ways of displaying different names, if you have an idea in mind of one you would like me to make then pop me an email to rose@redandrosy.com .
By far the thing I love the most about this frame is that it makes me feel all summery and reminds me of staying with my Grandparents during the summer holidays in the beautiful Welsh countryside, if I could have put grasshoppers in this I would have! And, as a little nod to my Aunt and Uncle and their flock of black sheep, I had to pop one in there.
This frame will cost £30 because of the detail in it, if you are interested in commissioning some Felt Box Frame art then please do get in touch — you can contact me by emailing rose@redandrosy.com .
I hope you all have a fantastic weekend — mine is going to be taken up with preparing stock for next week's Bumps & Bairns sale in Haddington. If you local, you should pop along, there is a fantastic cafe with home made soup and proper coffee, and lots of bargains to be had (last time we got a giant rucksack full of Transformers for the boys for just £2!)  And if your interested in hiring a table, for either craft or pre-loved baby/child items then please contact Natalie on info@bumpsandbairns.com.